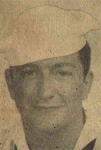 Click above for full-size
Victor Boino
of New Bedford, Massachusetts
Born in New Bedford, Massachusetts
Position: Crew
Age: 25
Victor Boino was the son of Joseph and Rose (Bento) Boino. He had been married less than a year earlier to the former Lillian DeSisto of Boston. He was a decorated veteran of World War II, having served aboard a destroyer escort in the Atlantic Theater. He served more than four years. Before entering the military, he had worked at Nonquitt Mills, but he began fishing after leaving the Navy.
In addition to his parents and widow, he was survived by two brothers: Joseph, a disabled war veteran living in New Bedford; and Francis, of Scranton, Pennsylvania. He was also survived by three sisters: Dorothy, Mrs. Emily Pacheco, and Mrs. Adelaide Holstrom, all of New Bedford. He had two nieces and a nephew.
His brother Louis also perished in this incident.
The dragger Four Sisters was returning to New Bedford with a hold full of scallops when she was lost in a sudden storm on April 7 or 8 east of Nantucket. All ten men on board were lost, and an extensive Coast Guard search failed to find any trace of the ship or the crew. Twelve children were left fatherless.
The William Landry was lost in the same storm.