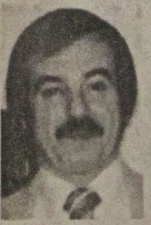 Click above for full-size
Frederick R. Haskell
of New Bedford, Massachusetts
Born in New Bedford, Massachusetts
Position: Crew
Age: 51
Funeral services will be held Monday for Frederick R. Haskell, 51, of New Bedford, who died unexpectedly Jan. 23, 1987. Mr. Haskell, a fisherman, disappeared after his boat docked at Nantucket Harbor to wait out a storm.
He was the husband of Jacqueline I. (Campion) Haskell and son of the late Frederick Haskell and Marie (Leger) Benevides. He was born in New Bedford and was a lifelong area resident. He was a communicant of St. Mary's Church and was a fisherman aboard the Cathy Maureen. Mr. Haskell was a Navy veteran of the Korean War and was a member of Disabled American Veterans, Veterans of Foreign Wars, and the Fisherman Teamsters.
Survivors include his widow, Jacqueline; a son, Daniel of New Bedford; a daughter, Cindy Lainey of New Bedford; a brother, Robert of Maryland; a sister, Roberta Gorton of New Jersey; and two grandchildren.
The Cathy Maureen tied up in Nantucket on Thursday, January 22, 1987, because of rough weather. The next day, crew member Frederick R. Haskell was seen at a telephone booth near Straight Wharf, a town pier, shortly before 1 a.m. He did not report to the boat when it left on Friday. He was believed to have slipped off the icy pier and drowned. His body was recovered in April from the water near Pocomo Point.