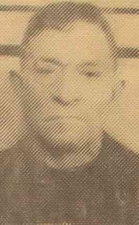 Click above for full-size
Manuel Oliviera
of New Bedford, Massachusetts
Born in St. Vincent, St. Michael, Azores
Position: Crew
Age: 65
Mr. Oliviera was born in St. Vincent, St. Michael, Azores and had lived in the United States for 38 years. He was always employed as a fisherman.
A communicant of St. John the Baptist Church, Mr. Oliviera was survived by his wife, Celestina (Souza) Oliviera; three daughters, Mrs. Mary Bettencourt, Virginia Oliviera, and Helen Oliviera; three sons, Manuel Jr., Joseph, and Antone; and two sisters, Susie Brillo and Mary Margarida, all of New Bedford.
Mr. Oliviera complained of chest pains while on watch at 2 a.m. on July 2. He was assisted below deck to rest, and the vessel headed for Oak Bluffs. When they were 9 miles from the banks, at 4 a.m., Mr. Oliveira died of a coronary occlusion.