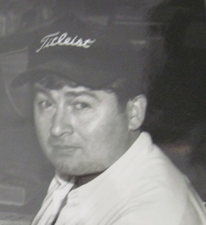 Click above for full-size
Eamonn Patrick Harrington
of New Bedford
Born in Castletown, County Cork, Ireland
Position: Crew
Age: 34
Eamonn Patrick Harrington, 34, of New Bedford, died unexpectedly Saturday, Jan. 30, 1993, at sea after being lost on the fishing vessel True Life off Chatham. He was the husband of Mary Kate (Hagen) Harrington and son of Donald and Rosaleen (O'Shea) Harrington of Castletown, County Cork, Ireland. He was born and raised in Castletown and lived in New York before moving to New Bedford five years ago. He was employed as a fisherman out of the port of New Bedford and also had been employed aboard a Mobil Oil tanker and aboard tug boats operated by Poling Brothers of New York.
Mr. Harrington was a 1992 graduate of Northeast Maritime in New Bedford and held Coast Guard Able Seaman, Lifeboatman and Tankerman ratings.
Survivors include his widow; his parents; a brother, Danny Harrington of Ireland; four sisters, Irene Harrington, Virginia Harrington, and Carmel Harrington, all of Ireland, and Angela Harrington of England; and several nieces and nephews.
The True Life was fishing off Chatham on January 30, 1993, when it began flooding. A distress call brought a Coast Guard helicopter, which lowered two pumps to the boat. The Coast Guard then advised the captain and crew to get into a life raft and abandon the boat, which flipped over when a rogue wave hit the deck. Captain Calvin "Tommy" Lilliston and crew member Thomas M. "Lee" Deegan were lifted out of the water, but Mr. Deegan had gone into cardiac arrest. The helicopter rushed him to the hospital while a jet looked for the life raft. The raft was found several hours later by another fishing boat. The body of the third crew member, Eamonn P. Harrington, was found underneath it.