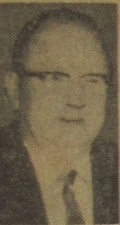 Click above for full-size
Edward L. Pacheco
of Fairhaven, Massachusetts
Born in New Bedford, Massachusetts
Position: Cook
Age: 45
A High Mass of Requiem will be sung at 8:45 a.m. Monday at St. Joseph Church, Fairhaven, for Edward L. Pacheco, 45, of Fairhaven, who died Wednesday after an accident aboard the New Bedford Dragger North Sea about 120 miles east of Nantucket. Burial will be in St. John's Cemetery, New Bedford.
Husband of Mrs. Olivia (Sylvia) Pacheco, Mr. Pacheco was born in New Bedford and was a communicant of St. Joseph Church. He was an Army veteran of World War II. Survivors, besides his widow, include a son, Edward R. Pacheco; a daughter, Miss Patricia Mae Pacheco; his mother, Mrs. Mariana Pacheco; and three sisters, Mrs. Margaret Silva, Mrs. Lillian Duarte and Mrs. Betty Gouveia. All are of New Bedford.
Edward L. Pacheco, the cook aboard the dragger North Sea, died on September 1, 1965, when a block fell from a mast and struck him.