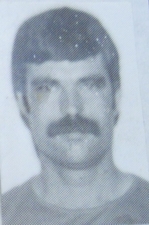 Click above for full-size
Manuel Silverio DeSousa
of New Bedford, Massachusetts
Born in Algarve, Portugal
Position: Crew
Age: 38
Mr. de Sousa was also survived by his uncle, Eugenio de Sousa, an agent for the Seafarer's International Union.
A memorial service at Our Lady of Mount Carmel Church will be held at 6 p.m. Monday for Manuel Silverio De Sousa, 38, of New Bedford, who was lost at sea while working aboard the Neves on Sunday, Nov. 25. He was the husband of Otilio De Sousa and son of Jose P. and Luiza De Sousa of New Bedford. He was born in Algarve, Portugal, and lived in New Bedford for 12 years. He was a communicant of Mount Carmel Church. Survivors include his widow and parents; two sons, Luis and Nelson, both of New Bedford; and a brother, Theodore of New Bedford.
On November 25, 1990, Manuel S. DeSousa fell overboard while trying to unsnag gear on the deck of the dragger Neves.