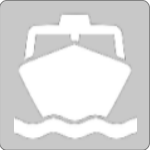 10/1/1962
Gloucester's oldest dragger, St. Stephen, left Gloucester early on the morning of September 31, 1962. The engine stalled and was repaired, and the crew resumed fishing the next morning at daybreak. Around 6:30 that morning, fire broke out in the engine room, followed by an explosion that tore the ship apart and blew the dory into the water. The four crew members--Capt. Joseph P. Parisi Jr., Robert E. Hardy, Charles J. Mason, and Lee Hudgins--managed to grab onto the broken dory. They didn't have time to get life preservers. The ship sank two minutes later, ten miles off Nauset light.
The men were unable to get into the dory, which had capsized. Mr. Hudgins lost his grip and grabbed an empty gas tank. Captain Parisi also grew too weak to hold on and drowned. Mr. Mason went into shock, and Mr. Hardy was unable to rescue him when he lost hold of the dory. Only Robert Hardy now remained. He managed to turn the dory over and sat in it, with water up to his chest. Finally, at 7:30 that night, the captain of the Mother of Frances heard him shouting. The crew pulled the dory alonside and brought Mr. Hardy aboard.
The Coast Guard search began that night and continued until dark on October 2, but the other men were never found.
---