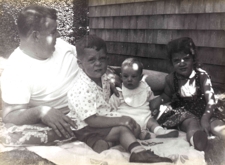 Click above for full-size
Charles J. Tapper Jr.
of Fairhaven, MA
Born in New Bedford, MA
Position: Mate
Age: 32
Mr. Tapper was a native of New Bedford and attended the New Bedford Vocational High School, where he was active in sports and starred in football and basketball. He was the son of Captain Charles J. Tapper of New Bedford, owner of the Sea Ranger. He was survived by his father; his wife, Flora (Joseph) Tapper; three children, Mary Ann, 6, Charles, 4, and Christopher, 2; a brother, George Tapper of Quincy; and five sisters, Adelaide of Rockville, Conn., Mildred of Roslyn Heights, N.Y., and Margaret, Evelyn, and Laura, all of New Bedford. He was a communicant of St. Joseph's Church.
On December 15, 1955, Charles J. Tapper Jr. fell overboard. Captain Arnold Fargh threw a life ring to Mr. Tapper, who caught it. The captain ordered the drags hauled in so that the vessel could make a full turn to try to pick up Mr. Tapper, but by the time they were able to do so, Mr. Tapper had lost his grip on the ring. A crew member, Peter Darwin, went overboard with a line tied to his waist, but Mr. Tapper was dead when he reached him.